Zillow is an advertisement company with a platform to help realtors get more exposure to potential home buyers and sellers. Just like all companies, Zillow is in the business to make money. But who benefits from Zillow the most when it comes to agents. From my experience as a buyer's agent. The way Zillow has its system set up right now I don't see it as being a beneficial factor into the equation for my business. to me, it seems like zillow is geared up to make realtors compete viciously against one another. And realtors are paying big bucks for their own competition as Zillow seats back and collects money. Is it a lot cheaper to get buyers as buyer's agent through the word of mouth, referrals from friends and past clients referrals? I don't know if it would work for most, but it seems to be working for me so far. But as a seller or listing agent who is a premier agent on Zillow. It is a win win situation but you must have listings.
Let me first talk about my recent experience with zillow that made me reconsider advertising with them for the moment. I have a zip code that I am paying for a 40% share of the market on at this time and there are 14 agents who are currently marketing in that zip code. According to the MLS, there are about 174 active listings right now in that zip code as of Aug 13th 2017. From the 5th of Aug to the 7th of Aug. I only received 3leads none of which turned into clients. And one of the leads that came through the listing agent for that particular listing also received the same information as I did about that potential buyer. I contacted the lead first and had a brief conversation with her about the questions that she had about the property. Some information that she asked me for I had to do a research on before giving her an answer. So I told her that I would call her in five minutes with an answer after researching the information. By the time I called her back to give her an answer. She told me that the listing agent already contacted her and answered the question. Don't get me wrong. I love a good competition. I think there are some competitions worth fighting for and other competitions that are stupid to fight for and are waste of time, energy and money.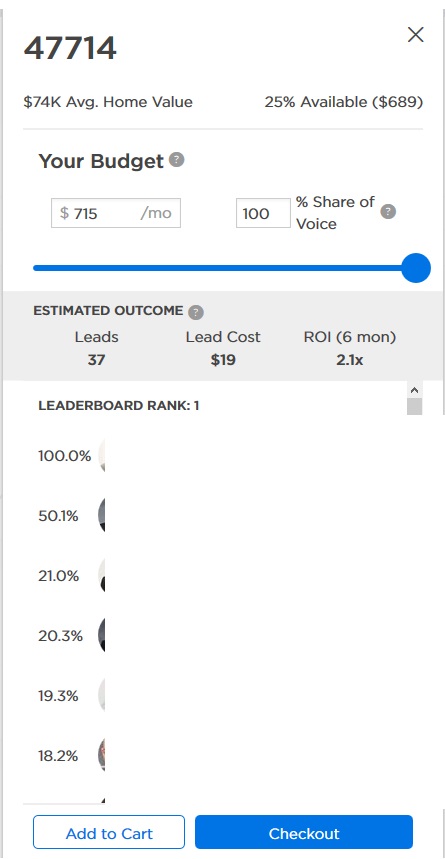 Let's just say that one realtor has the 174 listings right now and is a premier agent. Can you do the math and tell me what are the odds of you closing a deal? Now don't forget, you are not only competing against 13 other agents but also random agents that you did not see on your dashboard as you were pricing for that zip code. Yes, random agents do appear on the zip code that you pay $500.00 or $1000.00 for to get 100% share or 40% share for that market and you did not see on your dashboard when you was buying the zip code share. Also, I can't seem to grab the concept of owning 100% and yet there's still 25% of the pie left. What is the true strategy behind this concept?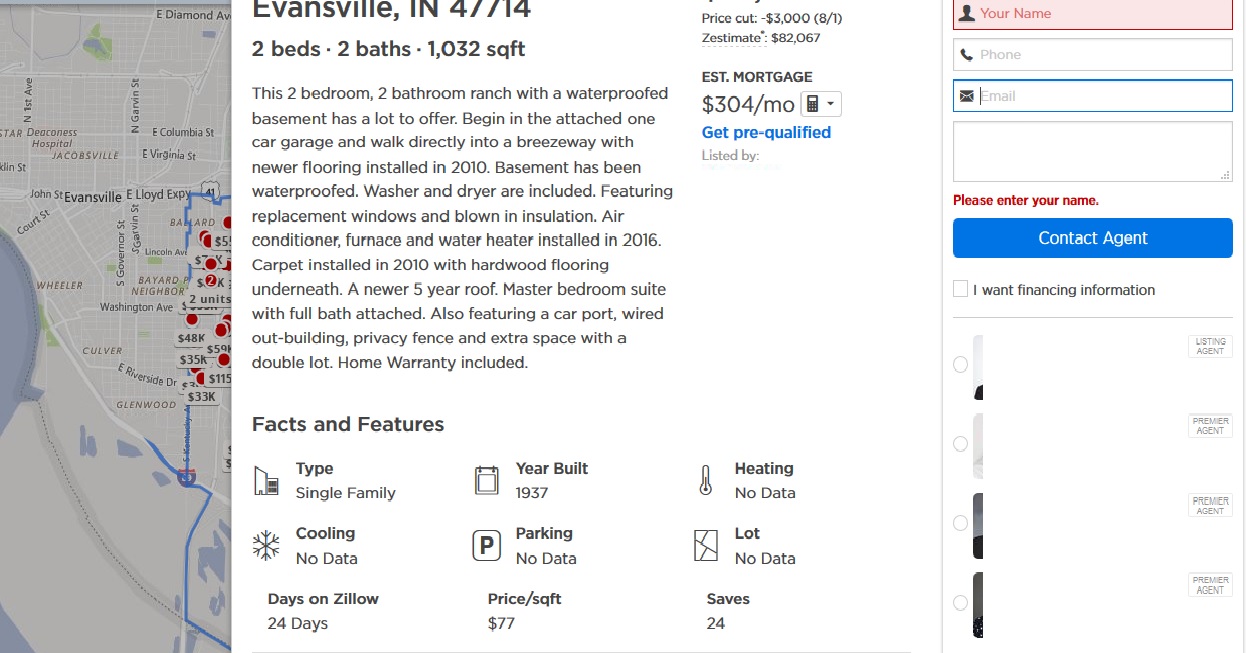 As agents fall off the zip code I am not sure if the price dropped or if those random agent just automatically take that slot as a free bonus for now until another agent comes in. but if this is the case then the price will never drop. Some agents right now are paying thousands and barely getting good leads in some of the zip codes that they are paying for and when they call zillow and ask what is the deal, most of the time zillow rep would say that they need to purchase more shares. The realtor may ending up paying a lot of money to buy extra shares but will only be on top for a short period of time. Zillow reps will call other agents in that zip code and brag how Mr X is getting a ton of business by being number one and with your reviews, you can do a lot better. But why should a buyer agent purchase more shares of that zip code when the listing agents are getting the same leads? I don't know the exact answer to this but I know it is a way to raise the price of the zip code overtime. I think it is all up to that agent. As an agent who pays 40% of the share, I would expect my picture to show up on the first listings that I clicked. But this isn't always the case. If you refer to the picture that I have above. There is a realtor on there that is at the bottom and was not there when I was pricing for that zip code. So why isn't my picture at the bottom of this list? The second time that I refreshed the page, another random realtor showed up. The third time however when I refreshed the page. My picture showed up. I guess third time was the charm.
I watched a video early last year in 2016 when Zillow stocks dropped and I think that all realtors and future realtors should watch this video. It is a pretty interesting video. The guy seems to know what he was talking about. I kept track of that until this day. Check it out Zillow Ready to Up Agent Fees Big Time
Again, this is my experience with Zillow in my area. I am not sure Zillow operates the same across the nation or global. And now that Zillow has integrated with the MLS I think that it will be a matter of time before realtor.com goes out of business or bought by either Zillow or Facebook if they don't step up their games. So as a buyer's agent, I see no purpose to advertise on Zillow. I am not saying that Zillow is a good or a bad website to advertise on. But for me, Zillow is not a beneficial factor to my business right now. Now that Facebook is involve. NAR might just give in and let these guys take over unless they step up to the plate. As a realtor, I would suggest you do your studies before getting yourself involve in a senseless competition.
I would love to hear your input on this. Email me and let me know